Commercial Property Appraisal

The commercial appraisal department is overseen by Christopher A. Miner, MAI and Robert H. Silverstein, MAI. They are are assisted by Vernon Nelson, State Certified, who has been with the firm for over 5 years. The firm's practice is diverse, but the partners have particular expertise in the appraisal of office buildings, shopping centers, industrial buildings, subdivisions, land, marinas, restaurants, motels, schools, governmental properties and institutional properties and in real estate market analysis. Property Types Appraised
The commercial appraisal practice consists predominantly of South-central and Eastern Connecticut; Coastal Rhode Island, and Fishers Island (Shoreham), NY. See Service Area Map below.
Commercial loans based upon Miner & Silverstein Appraisal Company appraisals have been made by commercial mortgage bankers, pension funds, insurance companies, and packaged mortgage backed securities. The partners have been testified in state and federal courts, before planning and zoning agencies and for tax appeals. Representative Client List

Real Estate Appraisal
In all, the members of the firm have completed more than 20,000 formal written appraisals. Types of assignments performed include:
Residential
Single and Multiple Family

Multi-Family Sites

Residential Lots

Condominium Units

Subdivision Analysis

Seasonal Dwellings

Waterfront Properties

Mobil Home Parks

Historic Properties

Estate Properties

Bed and Breakfast

Island Properties

Inns with and without Restaurants

Motels

Seasonal Motels
Commercial
Stores

Office (Conventional, Medical, Research and Development)

Business Parks

Automotive Properties

Shopping Centers

Mixed Use Properties

Campgrounds

Branch Banks

Gasoline Service Stations

Nightclubs

Restaurant; Family & Fast Food

Commercial Acreage and Sites

Commercial Condominiums

Marinas

Health Clubs

Golf Courses
Industrial
Warehouses

Light Manufacturing

Tank Farms

Oil Terminals and Sites

Waterfront Industrial Sites

Mill Buildings

Industrial Acreage and Sites

Loft Buildings

Condominiums

Flex Buildings
Other
Leasehold/Leased fee

Life Estate/Remainder Estates

Partial Interests

Easements

Open Space

Eminent Domain

Abutters Rights

Tax Appeal

Insurance Value

Churches

Casualty Loss

Development Rights

Farm and Ranch

Public Buildings

Rental Value

Review Appraisals

Representative Client Lists
In the mortgage and lending field, some of the clients who have approved the firm are: Atlantic Mortgage, Advest Bank, BankAmerica, Bank of Boston, Bank of New York, Centerbank, Chase Manhattan, Chelsea-Groton Savings Bank, Chemical Bank, Citizens Bank, Dime Savings Bank, FDIC, Farmers and Mechanics Bank, First Fidelity, First New London Savings and Loan, Fleet Bank, Liberty Bank, Mechanics Savings Bank, Nations Bank, Norwich Savings Society, Peoples Savings Bank, Savings Bank of Manchester, The Savings Institute, and Washington Trust.
Some business clients include: AEG Power Tools, Amerada Hess Corporation, Bayreuther Boat Yard, The Day Publishing Company, Dematteo Construction Company, Dupont Chemical Corp., Entertainment Sports Programming Network (ESPN), Hendel Manufacturing, Hewlett Packard, Hydrotronics, Jayfro Corporation, Kodak, Levine Insurance, D.T. Marini, McDonald's Corporation, Mobil Oil, Pfizer Corporation, PULSAfeeder Corporation, Rope Ferry Associates, Smith Insurance, and the YMCA of New London.
Some governmental clients include the City of Groton, the City of Norwich, the City of New London, the New London Redevelopment agency, New London Community Development, the Town of Plainfield, the Town of Clinton, the State of Connecticut Departments of Transportation, Environmental Protection, and Public Works, and the Connecticut Development Authority.
Some client legal firms include: Berman & Sable; Brown, Jacobson; Connecticut Attorney General; United States Attorney General; Conway & Londregan; Copp & Berall; Tobin Levin Carberry & O'Malley; Glassman; Heller Heller & McCoy; Holth Kollman and Golembeski; Irving Dubicki and Camassar; Levy and Droney; Mariani and Associates; McGarry; Mcguire & McGuire; McKeever; O'Brien Shafner Stuart Kelly & Morris; Rakosky Miller and Cable; Scott; Kanabis & Houle; Shapiro; Sistare and Regan; Sorokin Sorokin Gross Hyde & Williams; Robinson and Cole; Suisman Shapiro Wool Brennan and Gray; Waller, Smith and Palmer; and Wiggin and Dana.

Real Estate Consultation
Miner & Silverstein is actively involved in consultation on real estate related matters and market research and forecasting. A sample of assignments include:
Highest and best use studies

Condominium conversion feasibility studies

Subdivision planning and land use studies

FNMA and CHFA condominium pre-acceptance documentation

Market feasibility studies for residential condominiums, multi-family dwellings, shopping centers, office buildings, physician practices, wellness centers, financial institutions, subdivisions, retail stores, commercial condominiums, and a nightclub.

Market value subject to limited marketing time

Investment analyses
The Profit Point Target Marketing division specializes in using GIS for site selection, market planning, market feasibility studies, customer segmentation and profiling, penetration analysis, predictive gravity modeling, spatial interaction modeling, strategic planning, sales forecast modeling, trade area delineation, and distribution network analysis), tactical marketing and direct mail assistance. Clients have included retail companies, retail and medical real estate developers, a wellness center fitness tenant, a bank, and an HMO.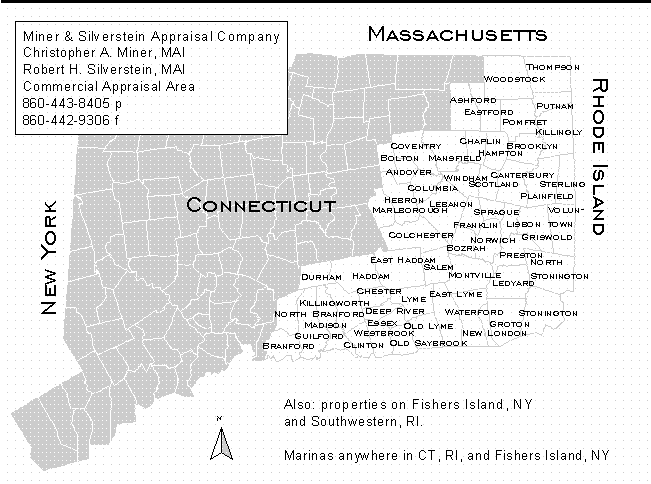 To discuss your appraisal or consulting needs, contact Christopher Miner, MAI, or Robert Silverstein, MAI, MBA. All inquiries will be kept strictly confidential. Telephone: 860-443-8405

Send E-mail to chrism@msac.com or roberts@msac.com