Residential Appraisal

The residential appraisal department is staffed by Cynthia Hernandez, Jennifer Scott, George Joseph and Susan Constantine, all are Certified Residential Appraisers in Connecticut. Each has been appraising homes with Miner & Silverstein for over 5 years and has at least 10 years experience in the real estate business.
Residential Loans using Miner & Silverstein appraisals have been sold to FNMA, FHLMC, Yankee Mac, RFC, and CHFA, as well as many institutional investors. Because our residential mortgage clients generally try to sell loans to the secondary market, our files on secondary mortgage market participants and mortgage insurers (i.e. FNMA, FHLMC, CHFA, FHA, and MGIC) include underwriting and reporting criteria.
In the mortgage field, some of the clients who have approved the firm are: Atlantic Mortgage, Bank of Boston, Chase Manhattan, Chelsea-Groton Savings Bank, Citizens Bank, Connecticut Savings Bank, F.D.I.C., First Connecticut Mortgage Company, Fleet Bank, Heritage Mortgage Company, Marine Midland Bank, MGIC, McCue Mortgage Company, Norwich Savings Society, Peoples Savings Bank, Savings Bank of Manchester, Society for Savings, and First Union.
Some client employee relocation companies include: Army Corps of Engineers, Bank of Oklahoma, N.A., Chase Manhattan, Chemical Relocation, Coldwell Banker/Empire Relocation, Employee Relocation, Equitable Relocation Company, Executrans, Homequity, Investors Relocation Company, Merrill Lynch Relocation Management, Potere, Relocation Realty Services, Travelers, and Transamerica.
Areas of Specialty
Single family, condominium, multi-family, and land

New London County, CT

Fishers Island, NY

Waterfront properties and islands

New construction and construction inspections

Appraisal review

Acquisition, disposition, litigation, taxation, estate planning, condemnation, donation, financing, and employee relocation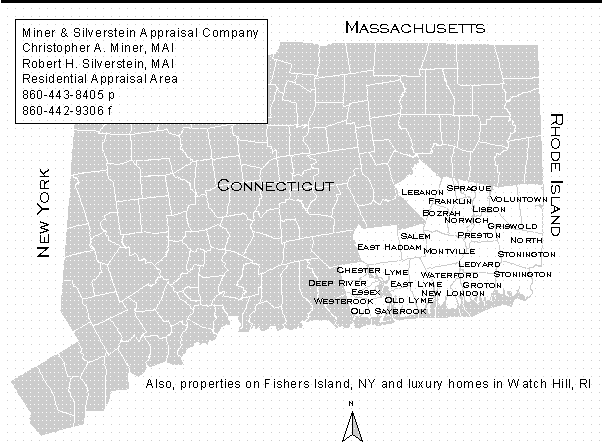 To discuss your appraisal or consulting needs, contact Christopher Miner, MAI, or Robert Silverstein, MAI, MBA. All inquiries will be kept strictly confidential. Telephone: 860-443-8405

Send E-mail to chrism@msac.com